LEGAL NOTICES
I. TERMS, PRIVACY POLICY AND CONDITIONS OF WEBSITE USE
TECNOVIA – SGPS, S.A., hereinafter designated asTECNOVIA, is the owner of this website and, except when otherwise stipulated, of all its contents which are protected by national and international standards of industrial and intellectual property.
Upon access and use of this website, the user accepts the terms and conditions that govern its operation and which are defined subsequently. The fact that any of the intended terms and conditions may be considered illegal, invalid or without effect, does not affect the validity or alteration of the others.
The contents of this website are only to be used for personal information, therefore any documents published by TECNOVIA may be seen, copied, printed and/or distributed, provided that express reference to TECNOVIA is made and that all copyright notices and other references to authorship rights remain.
The use of the contents for commercial purposes is excluded, therefore no content from this website may be modified, transmitted, reproduced, published, licensed, transferred or sold without previous written consent by TECNOVIA.
The information disclosed by TECNOVIA on this website does not exempt the consultation of official methods of disclosure, therefore TECNOVIA does not guarantee the accuracy, precision, currency and integrity of the information disclosed, and is not under any circumstance responsible for any loss or damage, directly or indirectly, resulting from the use or impossibility of use of this website or of its contents.
This website contains links to third-party websites aimed solely at the convenience of users, therefore TECNOVIA does not assume any responsibilities for the accuracy and currency of the contents and information or for the privacy policies and conditions of use of these websites.
The TECNOVIA website has some functionalities in which access depends on user registration.
All personal data collected is submitted in a voluntary and objective manner by users, and is exclusively destined to be used by  TECNOVIA, thereby guaranteeing its respective privacy and protection.
TECNOVIA will adopt the security measures that it deems necessary to guarantee the privacy and protection of personal user data with the aim of protecting it from any potential abusive use or unauthorised access.
The personal data collected on this website will not under any circumstance be made available, sold, shared or revealed to third-parties, nor used for any other purpose than those described at the time of its introduction, and can only be used to serve marketing or newsletter campaigns when expressly accepted by the user. At any moment that the user decides not to receive any more information, he or she must inform TECNOVIA, which can be done through the following means:
10.1. By mail sent to the following postal address:
TECNOVIA – SGPS, S.A
Edifício Tecnovia
Casal do Deserto
2740-031 Porto Salvo
Portugal
10.2. By e-mail sent to the following e-mail address: protecaodedados@tecnovia.pt
11. All users have the right to suspend the subscribed services through this website, which prompts the deletion of the respective records. The deletion of records must be requested from TECNOVIA through the means described in points 10.1 and 10.2.
12. According to the law of personal data protection in force in Portugal, all registered users have the right to access the information available to TECNOVIA on their personal data, for effects of updating, rectification and/or elimination of their personal data. This operation must be requested from TECNOVIA by the means described in 10.1 and 10.2.
13. The only information collected and stored automatically during use of the website is the information typical of server activity, which is used to generate statistics and measure website activity for the benefit of its users
14. With the aim of providing more personalized service, TECNOVIA also uses "cookies" to collect and store information. A "cookie" is a small information file placed on the computer which makes it possible to remember your choices, dates and previous pathways through the site. The user can configure their computer so as to reject the installation of said "cookie"
15. TECNOVIA reserves the right to alter unilaterally the terms and conditions of the privacy policy, at any moment and with no prior warning, for which reason careful reading of the privacy policy established by TECNOVIA is recommended.
16. The present website is governed by Portuguese law.
II. PERSONAL DATA PROTECTION POLICY 
Data Protection Officer
The mandatory officer requirement designation for data protection it's not applicable to Tecnovia, since TECNOVIA's main activities do not currently involve the regular and systematic control of large-scale data subjects, nor the treatment of special categories or large-scale conviction/infringement data.
Given the geographical dispersion and size of TECNOVIA, it was considered as a good practice to create a Data Protection Committee, which is equivalent to the Data Protection Officer provided in the General Regulation on Data Protection.
Responsibility
TECNOVIA is responsible for complying with all legal obligations regarding the processing of personal data in which it participates, to the extent of such participation (level of responsibility established individually for each processing of personal data).
TECNOVIA performs the processing of personal data as a subcontractor [outsourced] of client companies.
TECNOVIA is responsible for possible breaches of binding rules applicable to companies, committed by involved entities that are not established in the EU, except where the event that caused the damage is not attributable to TECNOVIA.
Regarding the entities involved in the personal data processing under its responsibility, TECNOVIA verifies the provision of the appropriate guarantees for the execution of the technical and organizational measures adequate to the risks of such processing.
Data characterization and main treatments
3.1 Data Processing
TECNOVIA keeps data on:
Clients: individuals who perform functions in client companies, in direct relation with TECNOVIA;
Partners: individuals who perform functions in partner companies, in direct relation with TECNOVIA;
Collaborators: individuals with a contract established directly with TECNOVIA;
Subcontractors: individuals hired by the subcontractor company to perform a specific and determined work;
Outsourced: individuals subcontracted to TECNOVIA partners;
Contacts: individuals who, not falling into the previous categories, may in the future fall into one of these categories (e.g. candidate, potential client).
The processing of personal data carried out in this context derives mainly from the:
Legal obligation: compliance with legal provisions of public bodies and services;
Contract execution: creation and execution of contracts with workers, subcontracted, partners and clients;
Legitimate interest: institutional communication, marketing of products and services.
There is also processing based on vital interests and consent.
TECNOVIA keeps and processes only personal data that is adequate, relevant and limited to what is necessary for its purposes.
TECNOVIA does not process special categories or convictions/infractions, except in the following cases:
Racial or ethnic origin, to the extent that it can be identified through the image (e.g., photo) of the subject;
Biometric data (identification), used exclusively for access control to the facilities and to control attendance (when applicable) by TECNOVIA and/or its partners/clients;
Health data, when required by legal obligation, for the vital interest of the subject or third parties or processed under consent;
Convictions/infractions, when required by legal obligation or processed under consent.
TECNOVIA develops activities outside the EU, respecting and enforcing the provisions applicable to each particular case.
3.2 Transfer and provision of personal data
TECNOVIA respects and enforces the obligations of personal data protection in the transfer of data to third countries and international organizations, through:
Adequacy decision of the Commission (rule of law, independent supervisory authorities, international commitments);
Adequate guarantees of enforceable rights and effective corrective legal measures (without authorization: legally binding instrument, binding rules, standard clauses, code of conduct, certification; with authorization: contractual clauses, provisions in administrative agreements).
3.3 Records of personal data processing activities
TECNOVIA has records of the activities of personal data processing in which it participates. Those records contain the following elements:
Purpose of the personal data processing (business process);
Preservation period, counting method and final destination of the information;
Categories of data subjects and recipients;
Joint responsible and subcontractors;
Personal data transfers and adequate guarantees;
Prior assessment of the risks and reference for impact assessment and prior consultation with the supervisory authority;
Technical and organizational measures adequate to the risks.
Data preservation and complementary processes
The personal data preservation and the complementary processes to which this data may be subject arise from specific aspects of the business context in which they were primarily processed. The personal data protection in these stages requires a systematic approach, which can be applied in a coherent form by all entities that participated in these main processes or have had access to them as recipients.
Therefore, the following stages in the information life cycle are: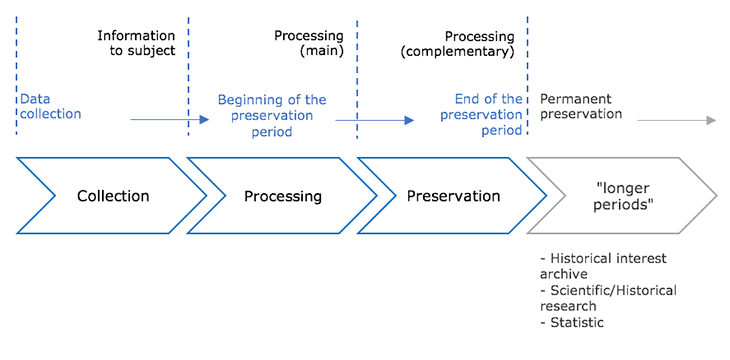 Application of measures

In cases where the need to preserve personal data is verified and if the subject expressly requests the exercise of the right to limit the processing or the elimination of the personal data, the following measures may apply:

• Limitation of preservation processing, regarding the declaration, exercise or defense of right in judicial process and/or archival purposes of public interest, scientific, historical or statistical research;

• Pseudonymization: processing of personal data in such a way that it can no longer be attributed to a specific subject without recurring to supplementary information, keeping this supplementary information separately and subject to appropriate technical and organizational measures.In cases where the need for the personal data preservation does not occur, the following measures may apply:

• Anonymization: processing of personal data in such a way that it can no longer be attributed to a specific subject;

• Deletion: permanent elimination of personal data.Considering the need to keep evidence about the execution of these operations, including for declaration, exercise or defense of right in an administrative or judicial process, the anonymization and the elimination may give rise to or require the maintenance of the subject's personal data.In accordance with the applicable legislation, all data subjects may exercise their rights, including access to their personal data, to its rectification, elimination or limitation of processing, to the portability of their data, or oppose its processing. In order to do it, you need to contact TECNOVIA through the contacts given above.
Any complaint related to the data processing of the interested party may be submitted to the National Commission for Data Protection (Comissão Nacional de Proteção de Dados – CNPD).
Date: 07/09/2018