Tecnovia nominated for the 2017 Construir awards under the category of construction, internationalisation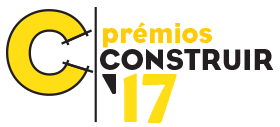 The Jornal Construir awards, currently in their 10th edition, were created with the aim of celebrating the effort and talent of companies and professionals in the various sectors of the construction industry.
The nominees in the 17 categories of the Jornal Construir awards were selected by the editorial staff at CONSTRUIR, and the awarding decision was left to the supporters and subscribers of the business newspaper's daily newsletter, according to a weighted average of 60% – 40%.
The polls were open until 31st October at prémios.construir.pt, and the winners were revealed on 16th November 2017.
In 2017, Tecnovia's internationalisation gained new momentum, with its expansion to new countries and the consolidation of its portfolio in existing countries.
– In BOLIVIA, we are building a velodrome, hotel, athletics tracks, and sports fields, among other structures at the Sports Village of Cochabamba, a project for the South American Games.
– In PANAMA, we are implementing a geotechnical project which impacts the local population's quality of life.
– In ECUADOR, we are executing two contracts and strengthening our presence in the country.
– In Angola we have won emblematic projects, most notably the restructuring of the Nó da Samba in Luanda, the rehabilitation of the site of the Cuito Cuanavale battle and the design-construction of the WWTP in Capari.
– In CAPE VERDE, we are renovating the airport runway on the island of Boavista.
– In GUINEA CONAKRY, we are executing an aggregate production contract.
This nomination recognises the work of our employees, and the determination, entrepreneurship and resilience which define us and carry the TECNOVIA name and Portuguese engineering to the four corners of the world.